If you are looking to buy a hard floor cleaner combining with a vacuum cleaner and hard floor mop, the Shark VM252 VACMOP Pro should be on your radar. This vacuum mop combo is great for cleaning hardwood, or vinyl floors.
Shark VACMOP Pro is a powerful floor cleaning machine that comes with really cool features. It is an affordable price but a complete home floor cleaning machine. This hard floor cleaner has a unique design and specialties.
This 2-in-1 hard floor cleaning machine is simple but has outstanding features to collect any types of small wet and dry debris easily. It is very easy to operate even kids.
Specification
Product weight (lbs.): 3.34
Cleaning path width (in.): 9.81
Wattage: 85 W
Amps: 7.8 A
Product dimensions (in.): 5.38″ L x 9.5″ W x 47.86″ H
Construction & Design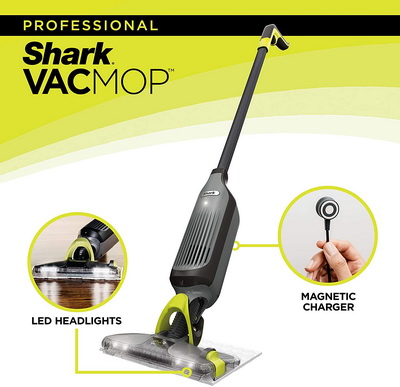 It has a compact, lightweight, and portable design. Its weight is less than 5 pounds, VACMOP is perfect for grab-and-go cleaning and easy storage. Many parts of the Shark VACMOP Pro are made by high-quality hard plastics.
The cleaning head is adjustable, flexible, and swivel. So, this hard floor mop can be easily maneuverable on your hard floor. There are two LED headlights located In-front of the cleaning head to see the floor in dark areas like under the cabinets, chairs, tables, and corners.
The fluid solution tank is located on the backside of the machine. It has around 12 oz capacity (0.3 L).
Powerful Suction
It comes with great suction power (Around 50 cfm) same as other vacuum cleaners. If you have previous experience of using large cordless vacuum cleaners, You won't see much difference in suction power between Shark VM252 and other vacuum cleaners. So, it can pick up any types of messes on your home floor effectively such as wet & dry dirt, debris, pet hair, and more.
The Shark VACMOP Pro provides the easy to operate button under the handle to trigger the suction.
Spray Mopping
As I mentioned earlier, Shark VM252 cordless hard floor mop combing with the great spray mopping system to remove sticky dirt on the floor. You can activate it from the button on the handle top. the Shark VACMOP Pro comes with the free cleaning solution bottle. you can add it to the reservoir tank according to the instruction manual and can start spraying when you need it.
Once you trigger the spray mopping button, the cleaning solution will be sprayed by the nozzle to in-front of the Shark VACMOP Pro. It has the ability to release the cleaning solution up to 3 to 4 feet distance.
Disposable Pads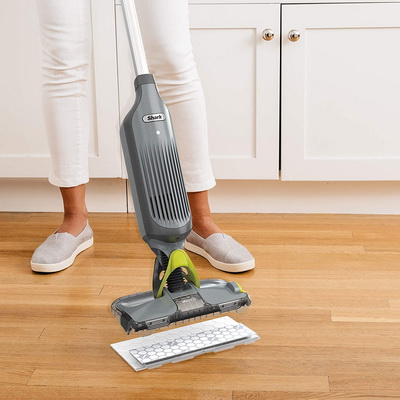 The disposable VACMOP Pad is doing an important role with this machine. It uses for both mopping and for collecting the vacuumed debris. When you are doing mopping, the mopping pad collects and absorbs the dry & wet dirt by itself.
As instructed by Shark, we have to throw away the used pad without touching anything. You can do this one click mopping pad release button. This mechanism allow us to remove the pad without touching dirt in our hand.
When you buy Shark VM252, you will get the one VACMOP disposable pad. However, you can get the 10 pad pack around seven dollars.
Power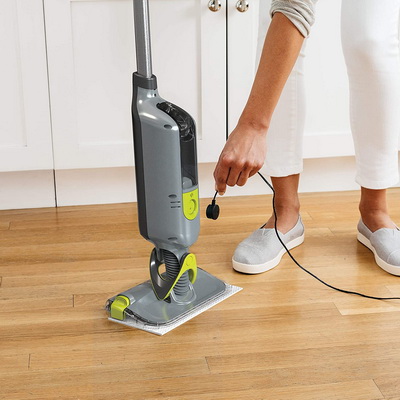 As I told earlier, It is a cordless hard floor vacuum mop. It includes the lithium-ion battery and magnetic charger for quick and easy charging. Its maximum run time is around 15 minutes.
Maintenance
Most floor machines are needed maintenance after using it. But luckily, you don't have to do any maintenance or filters replacements for the Shark VM252. You have to do only just replace the cleaning pad and refill the solution tank to start a new cleaning session.
Pros & Cons
Pros
Vacuum & mopping (2-in-1 hard floor cleaner)
Simple design
Lightweight and user friendly
Foldable design makes easy to storage
Easy to set up and use
Affordable price
Excellent suction power
The disposable pad collects both wet & dry dirt so you don't have to empty any dust bin
Cons
Only suitable for hard floors
The battery life is relatively short
Mopping pads are extra cost (Need to replace the pad in every new cleaning session)
Final Verdict
Shark VACMOP Pro (VM252) is a very handy cordless hard floor mop. It is great to remove wet and dry debris on any hard floors such as hardwood, tile, and vinyl. It is quick and easy to use. This hard floor vacuum mop is ideal for cleaning the small houses like 1-3 rooms. Because it has limited battery power.