The iRobot Roomba is the best selling robot vacuum cleaner brand in the world.
The iRobot Roomba 960 is one of their latest addition to the market. It is a powerful, smart, and high performing robot vacuum cleaner. 
iRobot Roomba 960 is an excellent choice for people who are looking for the best robot vacuum cleaner. It is ideal for cleaning embedded dirt and pet hair from the floors.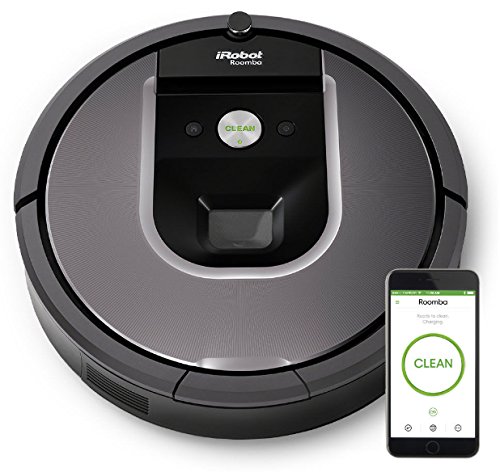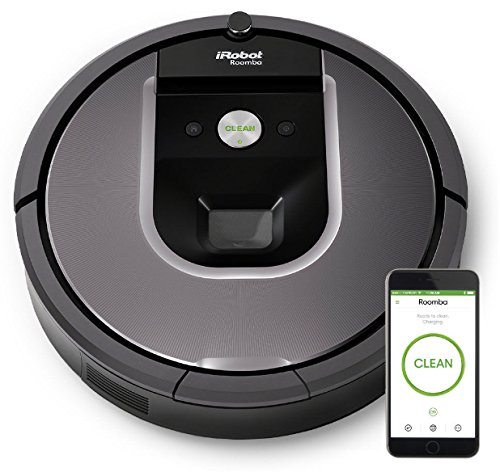 Quick highlights of the iRobot Roomba 960 automatic vacuum cleaner
Suitable for all floor types (Tile Floors, Marble Floors, Carpet Floors, Harwood Floors)
5X the air suction power than old models
Advance dirt detect technology
Patented iAdapt 2.0 navigation with vSLAM
3-stage cleaning system
99% High efficient filter
What are the supported floor types?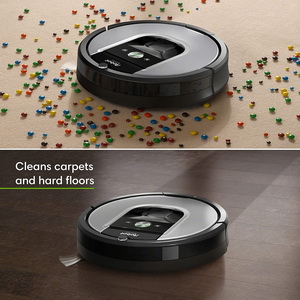 This is a perfect automatic vacuum cleaner for cleaning carpet floors and hard floors. Its auto-adjust cleaning head can adjust the height automatically according to floor types. So, The iRobot Roomba 960 is suitable for all floor types.
Is irobot roomba 960 good for pet hair?
Yes, It is a best robot vacuum for pet hair.
iRobot Roomba 960 has a 3-stage cleaning system. So, it has a unique ability to remove any visible dirt and pet hair efficiently from your home floor. As well as, it can remove the allergens and dust that unable to see. Its high efficient filter can trap 99% cat and dog allergens, pollen, and particles as small as 10 microns.
So, Roomba 960 is Ideal for homes with pets.
High Suction power
iRobot Roomba 960 automatic vacuum cleaner has high suction power compared with their previous models. According to the iRobot official website, Roomba 900 series has 5X air suction power than iRobot Roomba 600 and 700 series. So, it can easily pull out the embedded dirt, debris, and pet hair from carpet floors.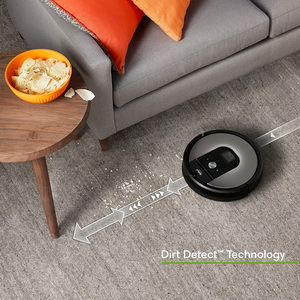 Also, this robot vacuum cleaner has a patented dirt detection system to recognise the high dirt concentrated areas in your home and provide additional cleaning in those spots.
iAdapt® 2.0 navigation system
iRobot Roomba 960 has one of the best navigation systems recently available in automatic vacuum cleaners. It is called iAdapt 2.0 navigation.
It can navigate the entire area of your home and keep track of its location quickly and efficiently. And with a full suite of smart sensors and a low 3.6″ profile design, Roomba can vacuum where dirt and dust hide, navigating around furniture and under beds, sofas, and other hard-to-reach places.
What are the charging time and working time of this robot vacuum cleaner?
iRobot Roomba takes an average 45 minutes to fully charge. This is very impressive compare with other robot vacuum brands.
According to test reports, iRobot Roomba 960 can work continuously average 75 minutes after fully charged.
Also, it can recharge and resume the cleaning job automatically until complete the entire job.
How to control iRobot Roomba 960?
You can control iRobot Roomba 960 by your smartphone through iRobot HOME App or other smart devices such as Amazon Alexa and Google home assistant.
iRobot HOME App lets you clean and schedule your cleaning work from anywhere. You can simply connect the iRobot Roomba to WiFi and control it from anywhere by your smartphone.
During the cleaning process, App shows every information that you need to know. Also, App updates your robot with the latest software, so it's always up-to-date with new features.
What information are provided by App?
Show cleaning map reports
Show area of the cleaned
Cleaning activity monitoring
Show cleaning history
Access tips and support
Watch maintenance video
Turn on push notification and more

Does charging station include in the package?
Yes, iRobot Roomba 960 comes with the charging station.
How much will it cost?
Well, Manufacturer marked it price as $399. I believe, this is worth enough for its price.
iRobot Roomba 960 vs 980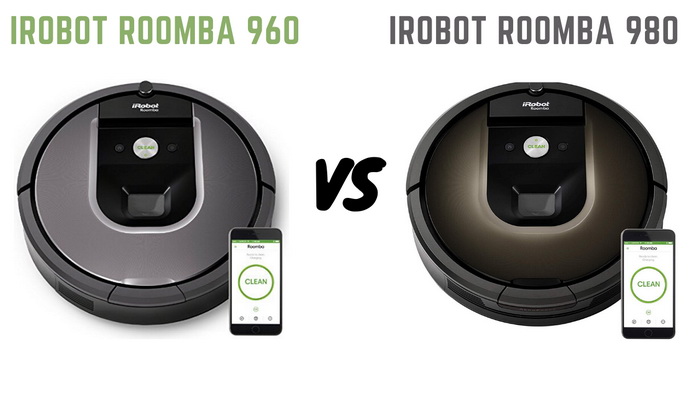 There is a another version of iRobot Roomba 900 series called iRobot Roomba 980.
It is a little advanced version than iRobot Roomba 960. So, Price of the iRobot Roomba 980 is a little bit higher. After comparing both models we identified only a few differences. Other all features are the same in both models.
Now we check the main differences of iRobot Roomba 960 vs 980.
iRobot Roomba 980 has longer battery life (120 minutes) than Roomba 960 (75 minutes).
iRobot Roomba 980 has 10X suction power which is larger than 960 model.
iRobot Roomba 980 includes a new technology called "Carpet Boost" which is not available in iRobot Roomba 960
New motor version than iRobot Roomba 960
Final Thoughts
The iRobot Roomba 960 is one of the excellent robot vacuum cleaners in the market. It is using the latest vacuum technology currently have.
It is fully automatic. If you have one of these automatic vacuum cleaners, You don't need to worry anymore about floor cleaning. It will take care of everything about floor cleaning under your full control.
After doing a lot of research about this incredible robot vacuum cleaner, I am no hesitating to recommend this to others who are looking to buy the best robot vacuum cleaner.