Today, we are reviewing one of the most popular pressure washers on Amazon. It is Sun joe spx3000.
The Sun joe spx3000 pressure washer is one of the excellent cleaning machines to clean your homes, buildings, RV's, cars, trucks, boats, decks, driveways, backyards, patios, lawn equipment, and more. It is powerful, efficient and versatile. If you looking for buying a best electric pressure washer in reasonable price, Sun joe spx3000 is the number one choice that you have.
Read our sun joe spx3000 review to know more details about this electric pressure washer.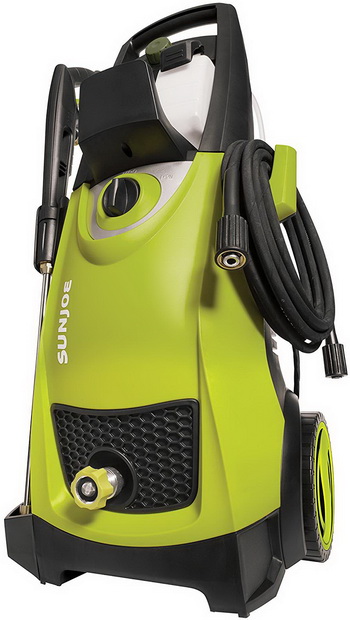 How powerful is this pressure washer? (Rating- 4/5)
Sun joe spx3000 comes with the powerful 1800W/14.5amp motor. It generates up to 2030 PSI of water pressure and 1.76 GPM of water flow. This is powerful enough for deliver great cleaning performance.
When talk about power of the pressure washers, Gas powered pressure washers are more powerful than electric pressure washers. So, you need more power, it is better to go with gas powered pressure washer.
How easy to work with sun joe spx3000? (Rating-5/5)
Well, Sun joe spx3000 is one of the easiest pressure washers to operate. You can instantly start the work after connected the power supply and water inlet. Its operation is very simple and can be use it even kid. Also, it comes with different size several nozzles for doing different jobs easily.
This pressure washer comes with 20-foot long high pressure hose and extra-long 35-foot power cord. So, you don't need to lift and carry every time pressure washer. Also, its pressure gun design allows easily aim any places to clean even in difficult areas to reach.
There are two backside wheels on the pressure washer for easy maneuverability and easy portability. These wheels allow accessing hard to reach areas such as two story buildings, and the undersides of the automotive vehicles and lawn equipment.
When compare with gas powered pressure washers, electric pressure washers are very quiet. So, users can work with this Sun joe spx3000 without any disturbance.
This is a compact pressure washer. So, you can store it in limited space area easily after done the cleaning.
What are the unique features that have in Sun joe spx3000?
Dual detergent tank system
This pressure washer includes dual detergent tank system each tank capacity 0.9 liter. Both tanks are removable and can store two different types of detergent simultaneously. So, this dual tank system allows to users to use both detergents in different ratios for various projects.
Joe's five Quick-Connect spray nozzles (0º, 15º, 25º, 40º and soap)
There are five spray nozzles in the package for different cleaning purpose. You can adjust the different pressure levels after quick replacing the nozzles.
Safety Lock switch
TSS (Total Stop System) trigger – automatically shuts off the pump when trigger is not engaged to save energy and prolong pump life.
Durability
This pressure washer and its other components made by high quality tough plastic materials. So, it has high durable and long lasting life time. But, very importantly, you have to use correct components to avoid damage connecting sockets.
Sun joe spx3000 warranty
This pressure washer comes with full two years warranty. This is very important.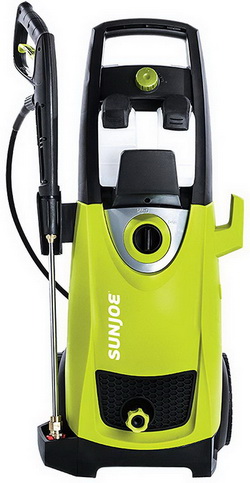 Sun joe spx3000 vs spx3001
Before compare Sun joe spx3000 and Sun joe spx3001, I have to say both models are perfect pressure washers in the market right now.
But, we can identify some similarities and differences between them.
Similarities
Both models are electric pressure washers
Both Sun joe spx3000 and Sun joe spx3001 use same motor
Both pressure washers generate same water pressure (2030 psi) and discharge rate (1.76 GPM).
20 foot high pressure hose include with both models
Differences
Sun joe spx3001 comes with single extra-large detergent tank capacity of 1.2 L
Sun Joe SPX3000 does not have a hose reel
PROS and CONS
PROS
High pressure washer in its class (2030 psi)
High perform electric pressure washer
Easy to use
Lightweight (31-lbs.), compact design (Size: 15.6 x 13.5 x 33.9 in)
Large rear wheels of easy maneuverability
Two detergent tank system
High durable pressure washer
Low noise
Reasonable price tag
CONS
Take time for assemble the unit
Comes with plastic garden hose connector
Take more time to cover large area
Conclusion
The Sun Joe SPX3000 is one of the high rated pressure washers in these days. You can buy this great pressure washer from major online stores like Amazon without going outlet. It equipped with really nice and cools features.
This is great for the complete every household cleaning tasks. It has great ability to remove grease, oil marks, tar stains and other substances easily in your driveway or backyard. Get this amazing pressure washer today itself and ending the headache of removing dirt in your home or vehicle.