The iDOO electric mop is an excellent cleaning tool for removing both wet and dry stains from laminate, hardwood, tile, and marble surfaces. The iDOO electric floor cleaner is cordless and portable. As a result, it can be used anywhere in the house, by both children and adults. With just one hand, users can manage this mop with ease.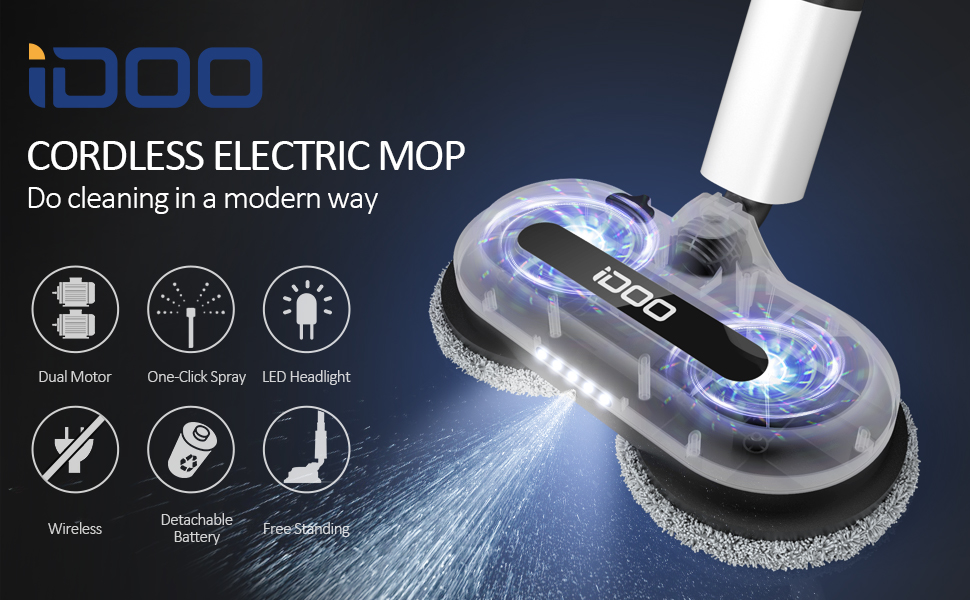 Design
The design of this cordless electric mop is quite straightforward. It's not too heavy. Even a mother can use it with one hand while holding her child with the other hand.
Adjustable Handle
It has a completely adjustable handle. On the horizontal axis, the handle may be adjusted to 180 degrees, and on the other axis, it can be adjusted to 90 degrees. Also, There's no need to bend your waist because the cordless mop can reach a height of 49.8 inches (1.26 meters).
As a result, users have greater freedom to remove stains in hard-to-reach areas such as behind the desk, under the chairs, and beneath the bed.
Dual Motor Design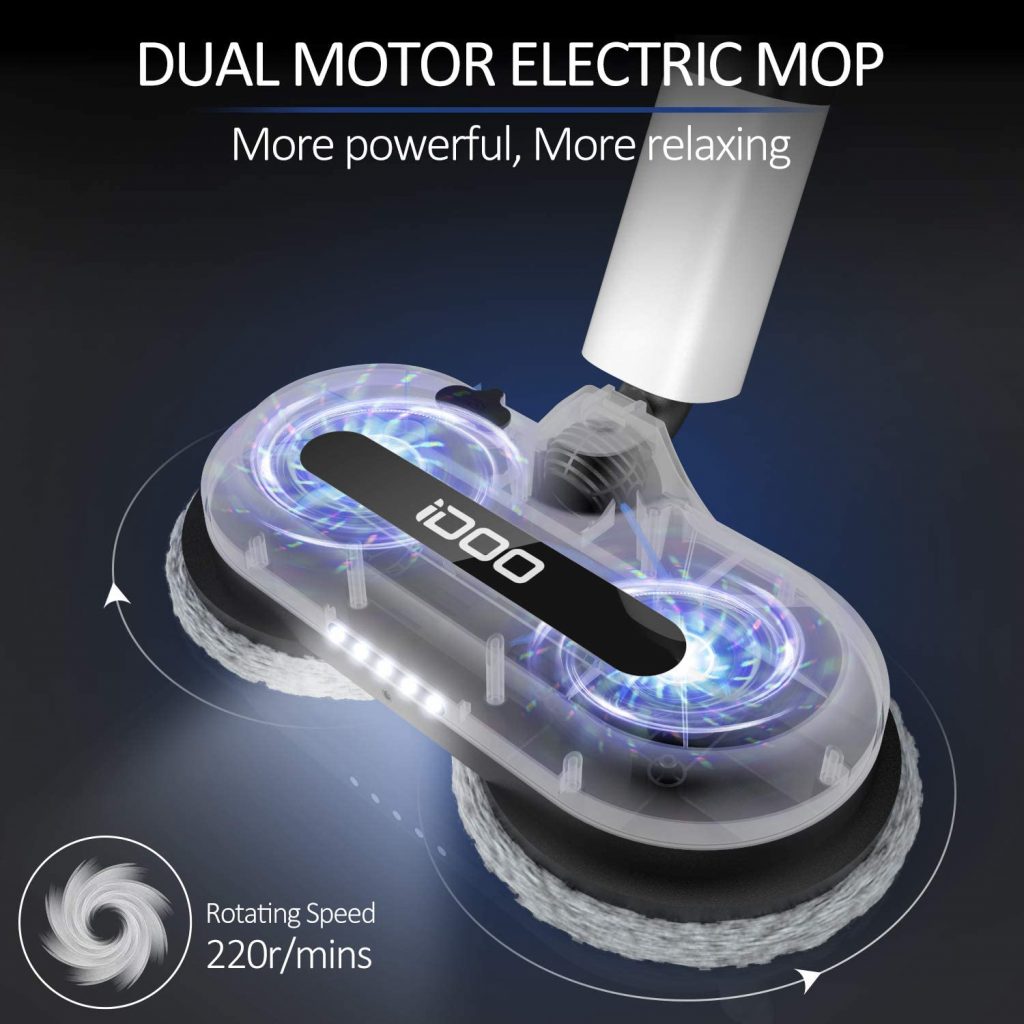 The two powerful dual motors in the iDOO electric mop will automatically drive the mop head forward while cleaning. As a result, consumers can easily clean their hardwood, tile, laminate, or marble floors. This cordless mop rotates at a speed of 220 rpm. As a result, it makes it easier and faster to remove stains.
300ml Water Tank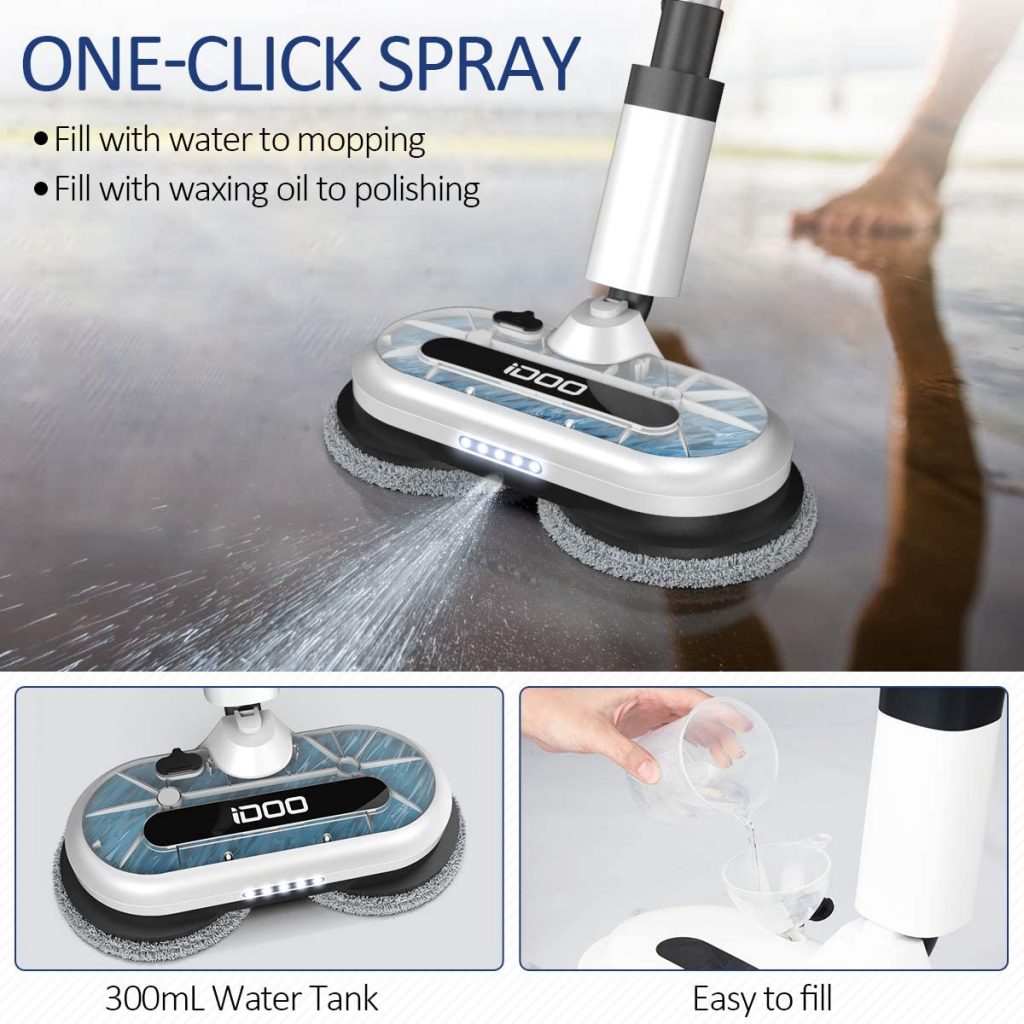 Because it contains a 300mL built-in water tank, this cordless floor mop may be used for mopping, wet mopping, waxing, and scrubbing. It includes a measuring cup and funnel for quickly filling the cleaning water and adding wax oil to the tank. You may easily apply the solution by pressing the "Spray" button.
LED Headlight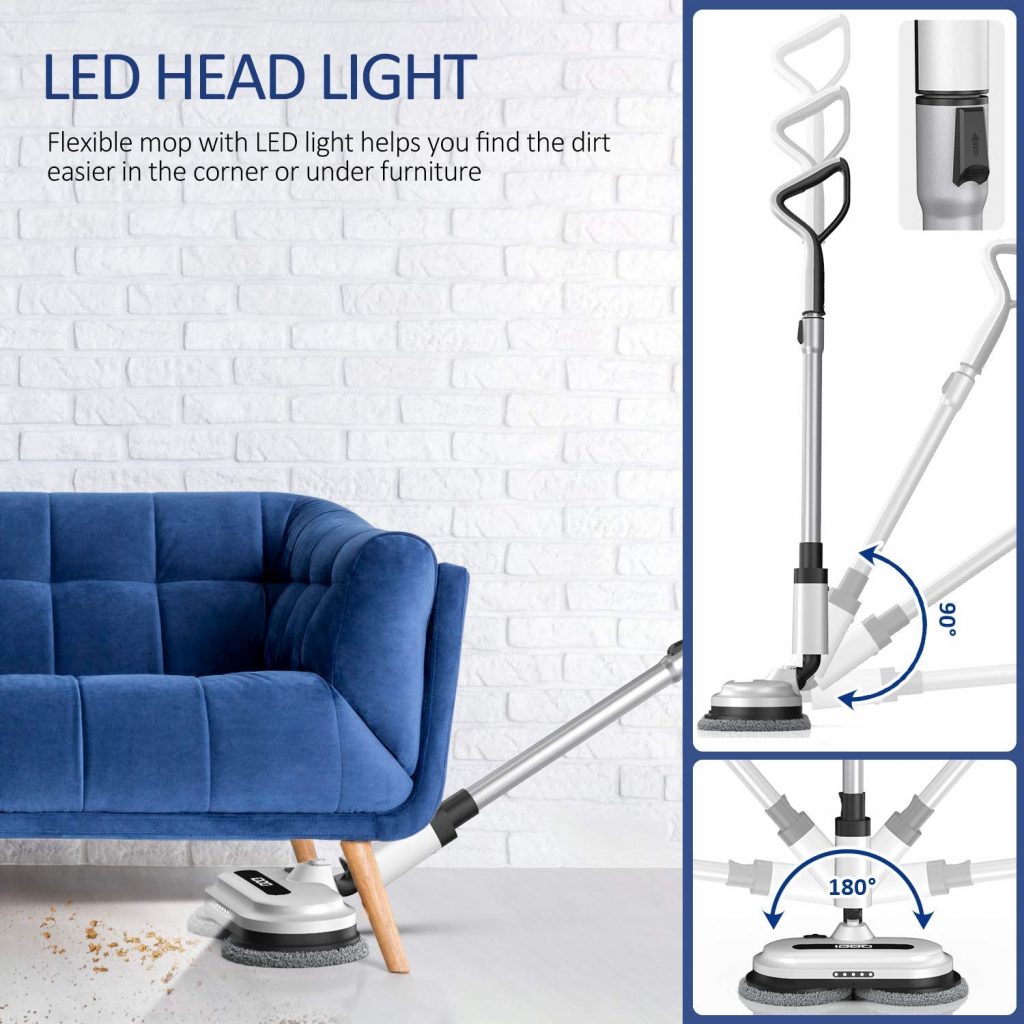 Unlike other electric mops, this one incorporates LED headlights that make cleaning strains in dark corners or under the desk a breeze. As a result, even the elderly may use this cordless electric mop to clean their floors easily.
Detachable 2500mAh Battery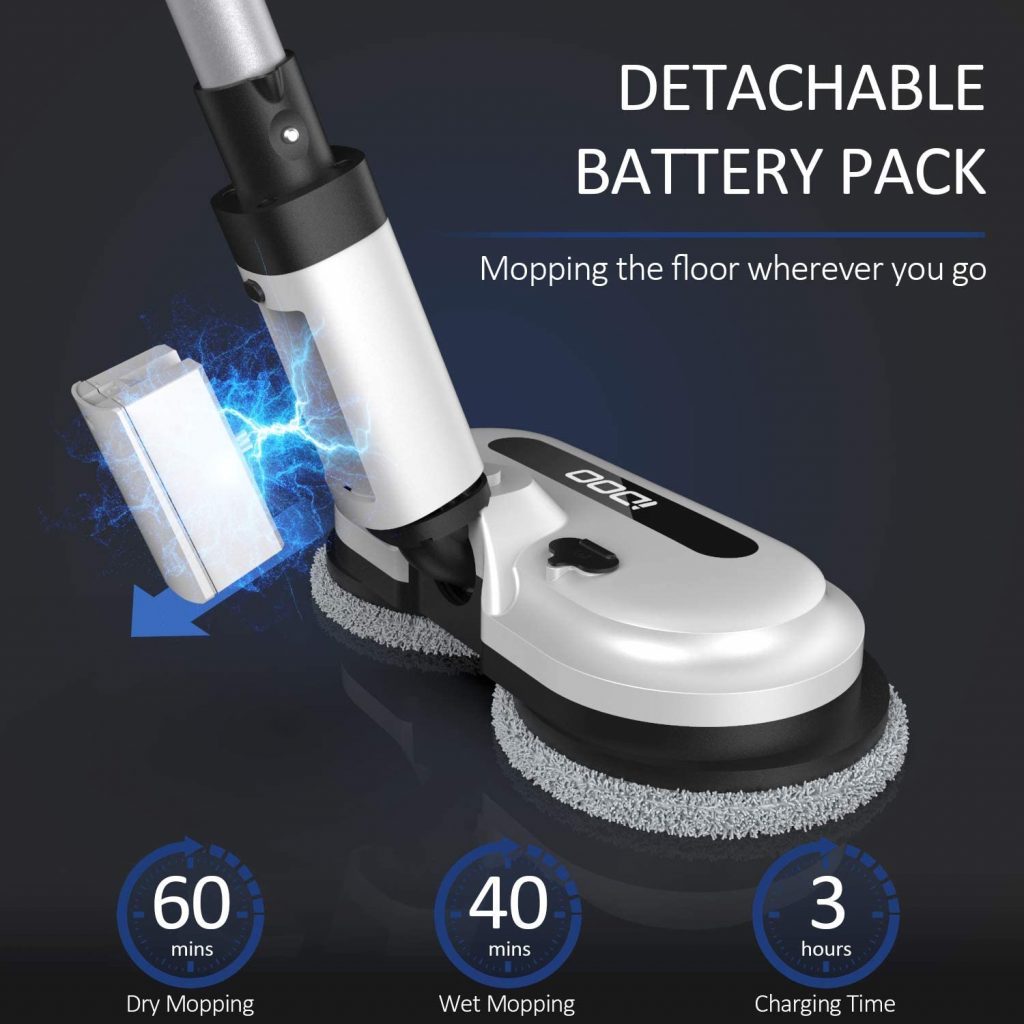 A rechargeable battery is included with the iDOO electric mop. It has a detachable design. As a result, users can remove the battery and recharge it on their own. The battery level is indicated via the blue LED lights. If only one blue light illuminates, it's time to recharge.
Free Stand Design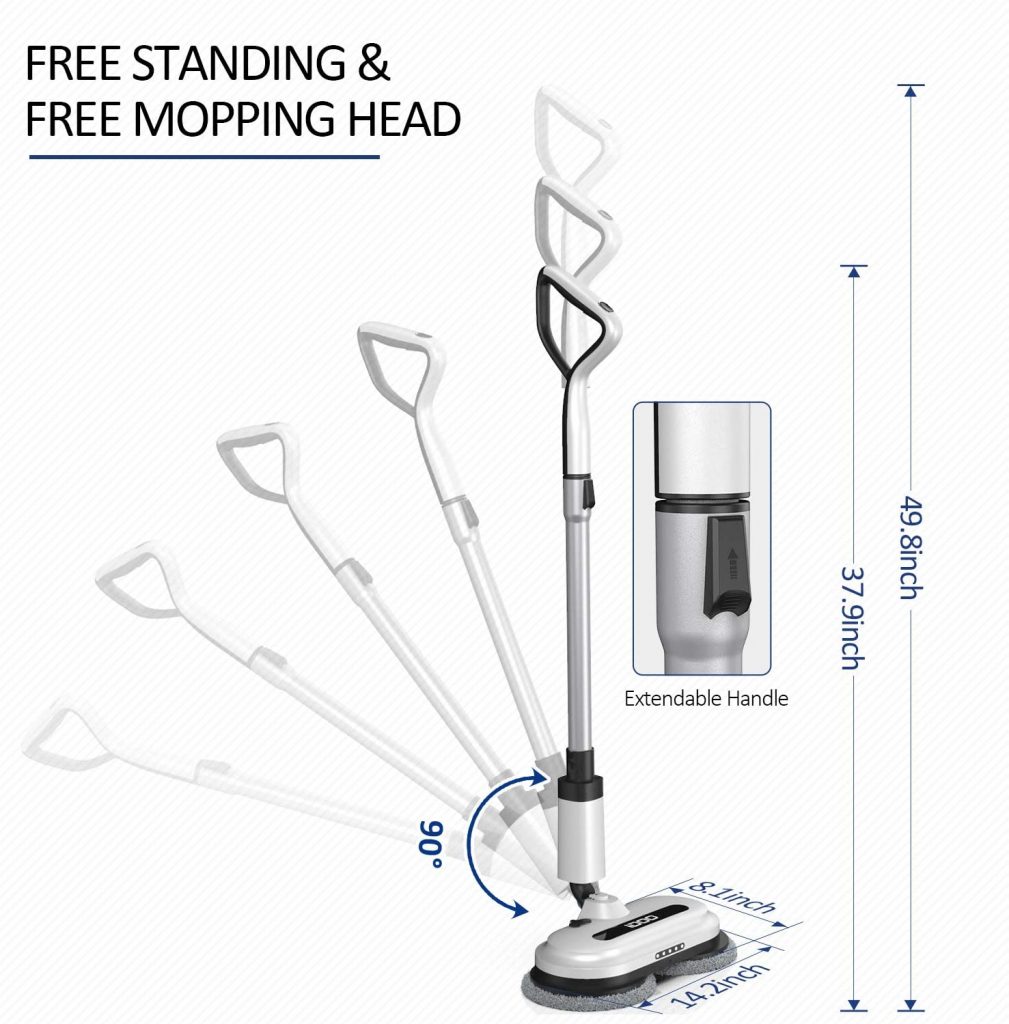 The mop can stand on its own, which makes it easy to store and ensures that you don't waste any of your valuable storage space.
< 50 dB Noise Level
It operates in a very quiet manner. The noise level is less than 50 decibels. It can be utilized even when your baby sleeps at home.
Washable Pads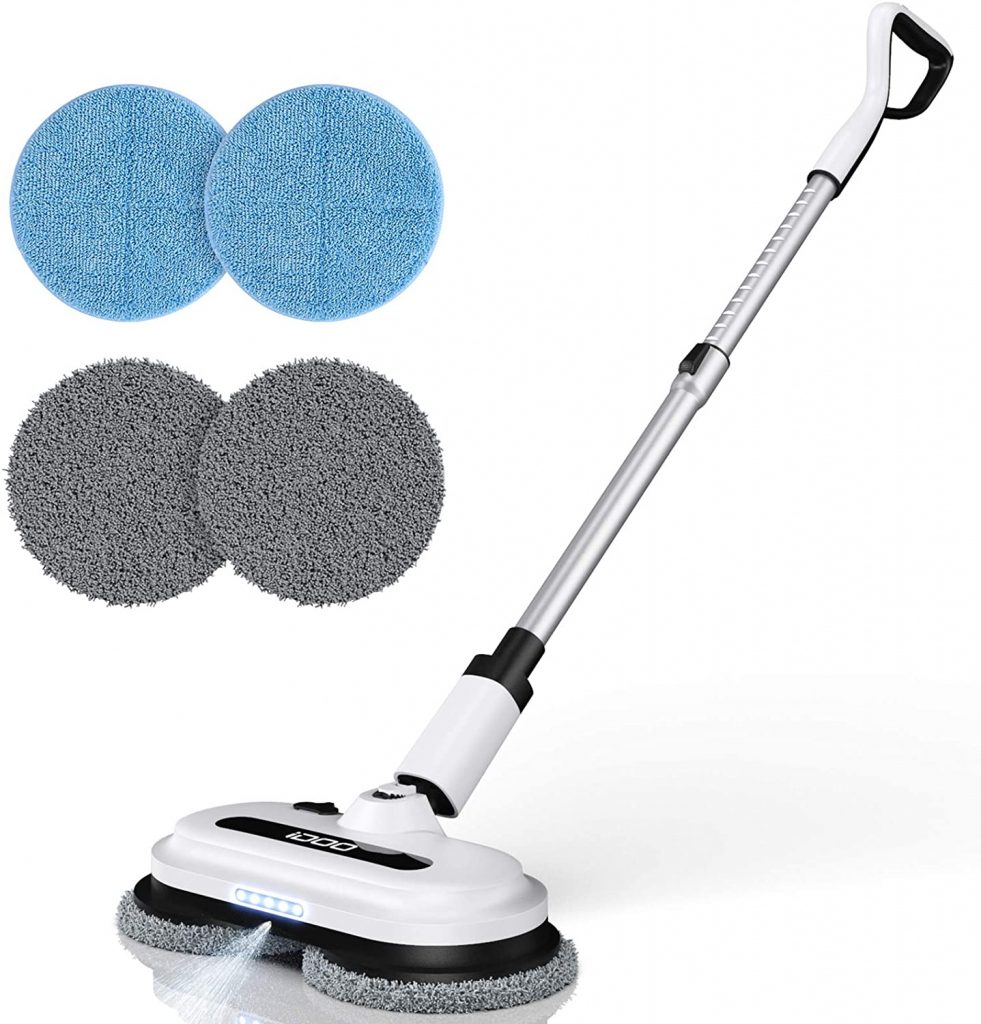 You can wash the reusable mopping/waxing cloths in the washing machine. It's easier to clean than a regular mop. Two replacement pads are included with the cordless electric mop. 1 set of mopping cloths, 1 set of waxing cloths
Specification
Model: ID-EM002
Battery: 2500mAh
Water Tank: 300ml
Size: 37.99 inch (0.96 m) – 49.86 inch (1.26 m)
Weight: 8.78 pounds