Floor cleaning is never easy from a traditional mop and basket. That is why you need to use a hard floor cleaner machine. It allows you to do cleaning your hard floor conveniently and effectively.
These floor cleaning machines keep your hard floor looking pristine and polished. Most of the latest hard floor cleaners are multipurpose which allow you to wash, vacuum, and dry the floor same time. Also, they are lightweight, easy to use, quick, and includes more additional features.
Here is the list of best hard floor cleaner machines in the market. Keep your hard floor looking pristine and polished with our fantastic range of great quality hard floor cleaners.
10 Best Hard Floor Cleaner Reviews

Hoover FloorMate Deluxe is our top choice of hard floor cleaner. It is an excellent hard floor cleaner for hardwood floors. It can wash and dry your hard floor very quickly.
The FloorMate Deluxe Hard Floor Cleaner delivers a deep clean while gently and safely scrubbing sealed hardwood, vinyl, ceramic tile, laminate and marble floor surfaces. With the Dual Tank Technology and specialty brushes for wood, tile & grout you can have a deluxe clean anywhere you need it.
It comes with dual tank technology. The two tanks keep clean and dirty water separately. So, you don't need to remove dirty water. Also, it will increase the floor hygiene.
It provides all angle cleaning to your hard floors. The SpinScrub technology safely washes and scrubs hard floors from all angles with counter-rotating brushes for an all-around deep clean.
This hard floor cleaner machine is very easy to control. For heavy traffic areas and stubborn stains, you can apply extra detergent simply pressing the fingertip control button.
All parts of this hoover hard floor cleaner are very easy to clean. The dual tanks, brush, and nozzle are easy to remove and rinse for a fast and hassle-free clean-up.
Pros
Budget-friendly
Fingertip control design
Very effective
Great Maneuverability
Easy to clean
High durability
Lightweight slim design
Dual tanks to store clean and dirty water
Two years warranty
Cons
Noisy
Difficulty to reach, for some under cabinets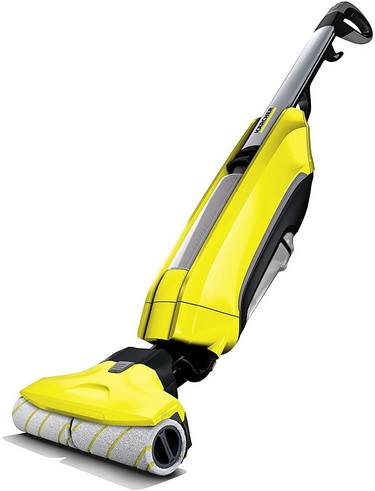 If you are looking for the hard floor cleaner for cleaning your home floor very quickly without per-sweeping or vacuuming, the Karcher FC5 is the better solution.
Karcher FC5 hard floor cleaner is another top product on our list. It is a revolutionary 2-in-1 floor cleaner that provides wipe and vac hard floors in a single pass. It perfectly works with hardwood floors, tile floors, linoleum floors, ceramic tile floors, polished concrete floors, laminate flooring (waterproof), or even stairs.
It includes dual water tanks to store cleaning water and dirty water separately during the floor cleaning process. Fresh water tank capacity: 400 ml., Dirty water tank capacity: 200 ml. The Pre-moistened rollers provide non-abrasive cleaning and the vacuum removes dirt and liquids directly from the roller.
This hard floor cleaner is very easy to use in a single hand. Its forward rotating rollers support to move the machine across the floor almost by itself and giving you an effortless cleaning on all hard floors. Not like other floor cleaning machines, the Karcher FC5 has a center drive that allows its rollers to clean right up to the edge. Also, It is great for cleaning under furniture and around objects.
Pros
Fast cleaning and drying
Suitable for any types of hard floor type
Easy to handle
Easy to remove the two-tank system
Great for under furniture cleaning
Great for corners & edges cleaning
Cons
Expensive
Small waste water tank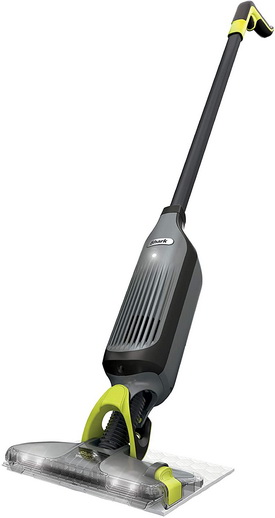 The Shark VACMOP Pro hard floor cleaner combines with powerful suction & spray mopping, all in one disposable pad. Lock away dry debris, absorb and scrub wet messes, and toss without touching the pad again. It features headlights + magnetic charger and comes with everything needed to complete the clean: 2 disposable pads, and a 12-oz.
It is great for remove dirt, debris, and pet hair in hard floors.
It is a cordless hard floor cleaner. So, you can easily clean multiple floor areas without changing the power cord. It is very good for clean under furniture floor areas. It has built-in LED lights to illuminate when cleaning dark areas to see the debris in corners, crevices, and under furniture in your home.
The Shark VACMOP Pro hard floor cleaner is lightweight (Less than 5 lbs.) and very easy to use.
Pros
Great suction power
Cordless
All-in-one hard floor cleaner
Inexpensive
Effective dirt-pick up and hard floor mopping
Lightweight design
Foldable handle for easy storage
Perfect for cleaning under furniture
Automatic LED lights
Hygienic disposal – no need to touch the dirt
Cons
Costly for long run (Due to cleaning pads are disposable ans need to replace)
Short battery life

Shark Sonic Duo ZZ550 is not only a hard floor cleaner but also a carpet cleaner. It is quick, powerful, and easy to remove stuck-on dirt that holds allergens & odors from carpets, area rugs, and hard floors. It is perfect for cleans and finishes all hard floor surfaces and carpets.
It is very easy to use and provides a better clean effortlessly every time. The Shark Sonic Duo hard floor cleaner comes with two scrub modes that allow you to further tailor your cleaning process to your unique floor care needs. It can do 1000 scrubs per minute.
It uses a microfiber washable pad for cleaning both hard floor and carpet cleaning. This pad is reusable. So, it can reduce the cost of operation. This Shark hard floor cleaner machine is very easy to use due to enhanced swivel steering, air glide maneuverability, and headlights.
With all these features, Shark Sonic Duo ZZ550 perfect for Carpets, Area Rugs, Hardwood, Tile, Vinyl, and Stone surfaces. Its weight only 9 lbs.
Pros
Lightweight design
Perfect for both hard floors and carpets
Great suction power
Swivel Steering
Great maneuverability
Long cord
Cons
Little expensive
Doesn't work so well on old carpet stains

This is a top-rated hardwood floor cleaner that comes with a budget-friendly price. BISSELL Spinwave (2039A) perfect for cleaning sealed, hard-surface floors like tile, linoleum, vinyl flooring, and hardwood floors.
This versatile machine comes with a set of soft touch cleaning pads for everyday cleaning and scrubby pads for tough, sticky messes. Power spin pads reduce cleaning effort while giving you a hands-and-knees clean. Bissell spinwave is also equipped with on-demand spray that allows you to dispense just the right amount of multi-surface solution onto your floors. In addition, swivel steering makes it easy to maneuver around and under furniture.
It is a lightweight hard floor cleaner (weighs 11 pounds) that is built with swivel steering, so it's easy to clean around furniture and along baseboards. Also, its Spray trigger allows you to control how much formula goes on the floor while cleaning.
Its operation is pretty quiet but powerful. Also, it includes an easy fill clean water tank and washable mop pads. Cleaning path width: 14 inches. Tank capacity: 28 ounce
Pros
Easy to use
Good price
Quick and easy setup
Great for hardwood floors
Great deep clean
Good cord length
Quiet operation
Easy fill tank
Cons
Not cordless
Pads wear out quickly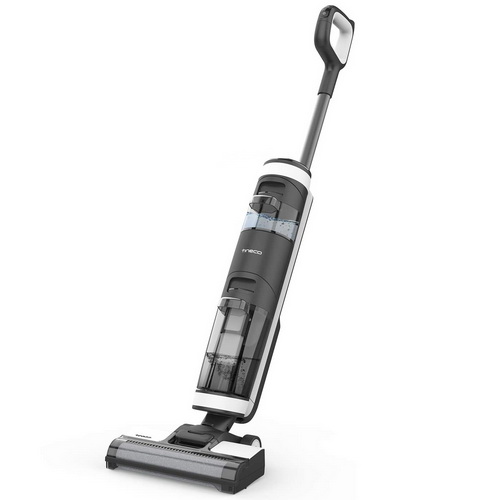 Tineco Floor ONE S3 is another high end hard floor cleaner. It is a smart cordless wet dry vacuum cleaner that comes with the great features.
It is featuring Tineco's iLoop smart sensor technology, The FLOOR ONE S3 detects the wet/dry messes on the sealed hard floors, and auto-adjusts the suction and water flow accordingly. It powerfully vacuums and washes tough, sticky messes in one easy smart step, leaving your floors dry quickly and streak-free.
Not like other hard floor cleaners, It includes all-in-one LED display that provides cleaning performance, battery levels, blockage alert and much more.
The FLOOR ONE S3's lightweight, cordless body allows you to move freely. Easily maneuver up and down stairs and into every corner for fast, complete cleaning, even in the tight space. Also, Its unique digital motors are powerful and ultra quiet, featuring precise air channels and housed in materials that reduce noise.
At a touch of a button, FLOOR ONE S3 automatically flushes its brush roller and insider tubes, keeping your hands clean, your appliance fresh and your home free of odor. Dual Tank Technology keeps clean water and formula separated from dry debris and dirty water.
The Tineco app provides real-time performance monitoring, maintenance reminders, tech support, troubleshooting, and more. It includes a 4000mAh battery and provides up to 35 minutes running time.
Pros
Perfect for hardwood floors
Great suction power
Dual tank system
Automatically control suction and water flow
Lightweight design
Long battery life
App control
Low noise operation
LED display
Cons
Expensive
Not great result for edges

The Bissell Cross Wave Cordless Max combines chores, vacuuming and washing at the same time, so you save time.
The 36V lithium-ion battery provides 30 minutes of cordless cleaning power, so you can move throughout your home without being tied to an outlet. Its multi-surface cleaning capabilities let you switch from cleaning sealed hard floors to refreshing area rugs in an instant.
Cross Wave Cordless Max also features improved edge cleaning to clean messes like pet hair along baseboards and in corners. Two-Tank Technology keeps clean and dirty water separate, so unlike mopping, only clean water and formula go on your floor. When you're finished cleaning, Cross Wave Cordless Max's self-cleaning cycle cleans the brush roll and inside of the Cross Wave, so there's less clean-up after cleaning.
It comes with 2 Multi-Surface Trial Formulas, 2 Hard Floor Tough Mess + Odor Eliminator Trial Formulas, and 2 Multi-Surface Brush Rolls. It includes 36V Lithium-Ion Battery and provides up to 30 minutes run time.
Pros
Multipurpose
Lightweight design
Cordless and more convenient to use
Wet & Dry Vacuum
Dual tank technology
Great for edge cleaning
WiFi connectivity
Self-cleaning process
All alerts & info can be check with the smartphone
Cons
Pricey
Long battery recharging time
Not suitable for deep clean carpet
Need to dissemble for cleaning & reassemble when dry
30 minutes of battery life, not enough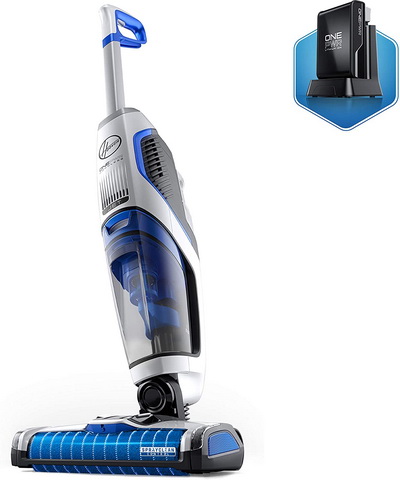 The HOOVER ONEPWR Cordless FloorMate JET is designed to make cleaning hard floors conveniently and quickly. It lets you effectively mop and vacuums your home floor simultaneously. Its powerful Lithium-Ion battery allows up to 20 minutes of runtime.
This hard floor cleaner perfect for clean multiple surfaces including sealed hardwoods, tile, laminate, and vinyl. From hard floors and carpets to upholstery, patios and more.
SprayClean nozzle and trigger system gives you the control to use cleaning solution when and where you need it.
Overall, it is very easy to use and maintenance.
Pros
Cordless
Provide both vacuum & wash simultaneously
Easy to maneuverable
Easy fill solution tank
LED display
Swivel steering
Dual tank system
Perfect for pet messes
Cons
Run time not enough
The battery takes 3-4 hour for recharge
Less vacuum power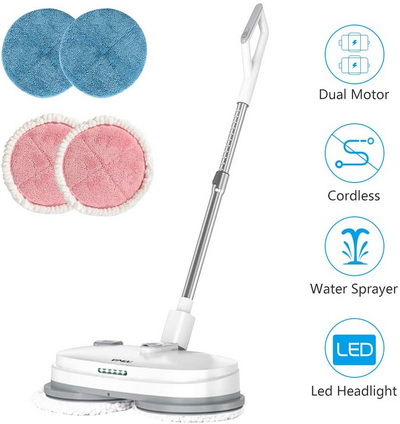 VMAI is a super lightweight hard floor cleaner (6.9 lbs.) that comes with nice features. This cordless electric mop enables you to clean the entire house without the cord-length limitation.
This electric hardwood floor cleaner machine has high-powered dual-spin motors clean at 250r/mins to remove dirt from your floor. With LED headlight, it is easier for you to find spot stains with a closer look under the corner of furniture.
Vmai cordless electric mop can work on different kinds of floor surfaces including vinyl, tile, hard floor, wood floor, marble, etc. 4 reusable microfiber cleaning pads are included in the package. It has a 300ml built-in water tank.
This electric mop is free-standing design, which is convenient for storing the mop; therefore, you will not sacrifice any of your needed space. The adjustable handle allows anyone to comfortably use the electric mop with ease. The joint on the mop base allows the handle to rotate from 60 degrees for standing and facilitating mopping, so it is easier for you to clean underneath furniture.
You can charge the battery separately. The long-lasting battery can help you clean your entire home for more than 35 mins.
Pros
Super lightweight design
Powerful cleaning
Cordless
Water sprayer
LED headlight
Detachable battery
Easy to use
Machine washable pads
Noiseless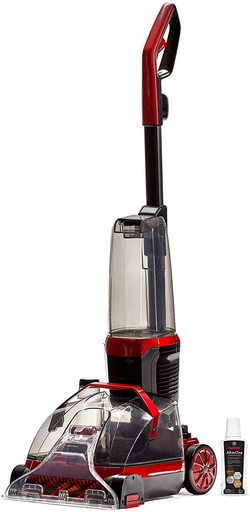 Rug Doctor FlexClean is a all-in-one floor cleaner. It can effortlessly extracts grime, grease, grit, and gunk from both carpet and sealed hardwood floors.
It is lightweight and easy-to-maneuver. FlexClean eliminates the need for multiple, single-function cleaning machines; replaces mops, hard floor cleaners, and steamers to deliver an efficient, effective clean to home and office
Easy cleaning machine goes to work whether tending to daily spot cleaning or attacking the seasonal deep cleaning of carpet, tile, stone, rugs, laminate, furniture, upholstery, hardwood, and more
FlexClean features lightweight clean and soiled water tanks that are easy to fill and empty. Easily steer FlexClean around and under furniture, into corners and through the tough-to-reach places where messes build up.
Pros
Good for all surfaces
Soild construction
Swivel handle
Lightweight design
Powerful machine
Easy to use
Cons
Expensive
Upholstery and Spot Cleaning tool is sold separately