Prolux Core floor buffer is a heavy-duty single pad commercial floor polisher and scrubber. It is one of the best commercial floor buffers in 2020.
It is ideal for strips, waxes, buffs, sands, polishes, cleans and refinishes any floor surface such as Carpet, Wood, Marble, or Vinyl. You can use this heavy-duty commercial buffer for any commercial or household floor buffing works.
This commercial floor buffer comes with the heavy-duty scrubbing brush. It allows for scrubbing the most dirt build-up industrial hard floors from tile to concrete easily and quickly.  It can use not only hard floors but also soft and medium floors such as laminate, hardwood, gym floors, and carpet. But, you have to get the soft and medium scrubbing brushes separately.
Other than that, it can use as a dry-cleaner for carpets. Using this commercial floor buffer, you can loosen embedded dirt in your carpet and simply vacuum up dirt. Then, you can use this carpet straightly without drying.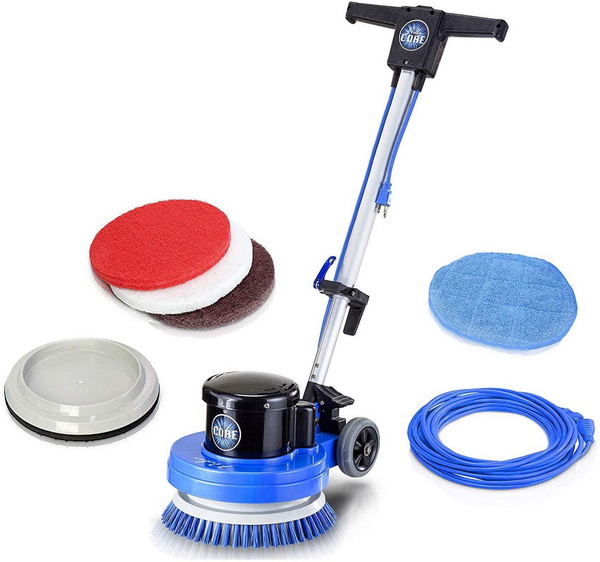 Powerful Motor
It is a very powerful floor buffer that comes with the 1.5hp, 2.5A motor. This heavy-duty motor creates 150 RPM speed for efficient floor buffing over a wide 13″ cleaning path. Considering the speed of the motor, it is a low-speed floor buffer which is one of the best in their range.
Easy to use
The Prolux Core floor buffer comes with a lot of user-friendly features. So, it is one of the easiest to use and maintain commercial buffers in the industry.
The new Prolux Core commercial floor buffer has a lightweight and compact design. Its random orbit technology allows easily manoeuvrable. There will be no torque twisting, swirl/sanding marks or gouges in your floor surface when you use the Prolux Core.
Also, It comes with the industrial-grade telescopic wand that makes height adjustment easy and ensures the perfect fit for any size user. Typically, this feature is not available in other commercial floor buffers.
This low-speed floor buffer comes with the 50ft. commercial grade extension cord. So, it can cover a large area without frequently unplugging and re-plugging the power cord. It is very helpful for users to do their floor buffing works efficiently and quickly.
Warranty
All Prolux Products are designed, tested & developed in the USA. This floor buffer comes with a 5 Year Warranty
Pros
Reasonable price
Great quality
Value for money
Well made
13-inch cleaning path
Easy to use
Includes industrial-grade telescopic wand
Maintenance-free design
Random orbit motor
Comes with the 50-foot commercial grade extension
Made in USA
Cons
Not much heavy duty as advertise
Final Verdict
Overall, this is a great low-speed floor buffer for commercial and home use. Its virtual maintenance-free high torque motor that produces a powerful 150 RPM's over a wide 13″ cleaning path. It contains useful significant features to make your life and job easier.