If you have a powerful and automated robot vacuum cleaner, your home floor cleaning is never tricky anymore. Today, I am going to review one of the best robot vacuum in 2020.
It is Samsung POWERbot R7065 robot vacuum leaner.
Samsung POWERbot R7065 is a powerful robot vacuum cleaner that comes with tons of features. This Samsung robot vacuum can deliver 40X more powerful cleaning for all floor types when compared to the other conventional robot vacuums with a circular design. It works great with any floor types, including hard floors and carpet floors.
This Samsung vacuum robot can remove every dirt on the floor, including edges. Also, It can remove pet hair efficiently. Samsung POWERbot R7065 is one of the best robot vacuum pet hair.
POWERbot R7065 is a one of the better choices for a comfortable lifestyle by saving valuable time.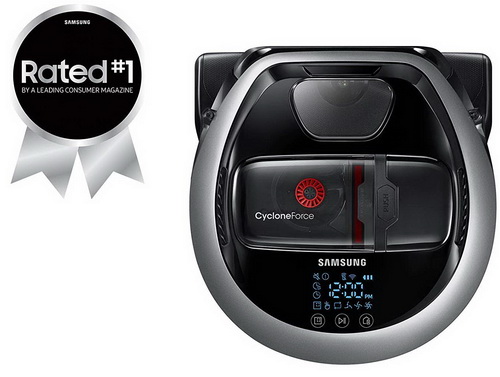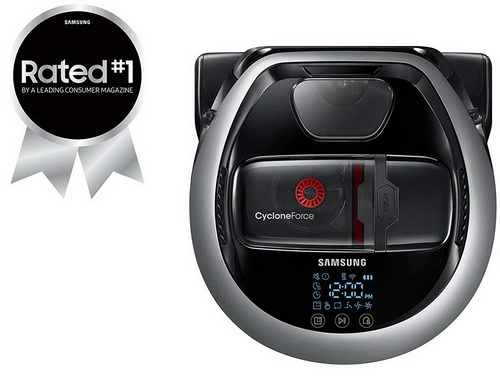 Design and Shape
Samsung POWERbot R7065 has a uniquely elegant design and nice shape. It has upward face camera eyes, digital control panel, and other stuff on the top.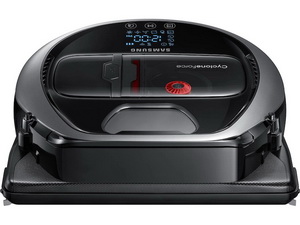 It reminds me of the robotic face of the film that I have seen a few years back. POWERbot R7065 comes with the mixing of black and grey color. So, It is very beautiful and perfectly matching for modern floor cleaning. It has a lightweight (only 9.5 pounds) and portable design,, which helps secure handling and transporting.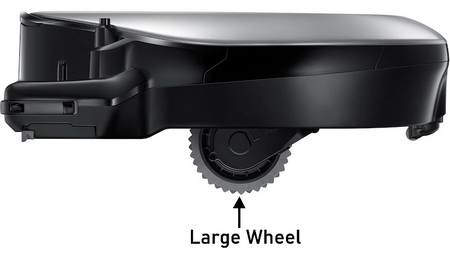 There are two large wheels located under this robot vacuum cleaner to smooth moving over obstacles, transitioning from hard floors to carpet with ease and providing the right type of cleaning action for whichever surface it's on.
Also, POWERbot R7065 includes a broad motorized brush to clean larger areas with less movement. Its steady rotating motion helps loosen trapped dirt particles, while suction across the entire brush provides pick-up from end to end.
Easy to control
It is easy to control. Simply, you can control it from your smartphone via Wi-Fi connectivity. Also, you can control POWERbot R7065 from smart voice control devices such as Amazon Alexa, Google Assistant, or Bixby. The only thing you have to do give the voice instruction to operate the Powerbot automatically.
Four cleaning modes:
Automatic: When you activate the automatic cleaning mode, POWERbot R7065 will start and clean automatically. It will adjust the settings itself like suction power according to the surface.
Manual: When you activate the manual mode, you have to control the Powerbot by your smartphone or remote's directional pad.
Repeat Clean: This mode allows to Powerbot to clean the floor until battery zero. In other words, it will repeatedly clean the same story until battery dead.
Spot Clean: This mode allows you to drive Powerbot to a particular spot and gives intense cleaning until dirt spot removes.
Visionary Mapping Plus and FullView Sensor 2.0
POWERbot R7065 has a great ability to avoid any obstacles to meet up while cleaning. Its builtin camera and multi-sensors are doing great and create the ideal cleaning path for multi-room cleaning while avoiding obstacles along the way. So, you don't need to remove any tables or chairs in the room while cleaning the floor.
Advanced Powerful Technology
Its amazingly powerful cyclone force technology separates every dirt and debris into an outer chamber to maintain long-lasting suction power and ensure consistent power with less clogging. Also, its intelligent sensor can detect the surface type and select ideal suction power automatically. So, it saves a lot of energy than other similar robotic vacuum cleaners.
It goes to the charging station automatically without your participation when the battery level goes down. Also, It will resume the job after battery fully charged.
Other Features
Size: 13.7 x 13.4 x 3.8 inches
Weight: 9.5 pounds
Run time: Up to 90 minutes
Include easy to maintain washable filters
Price / Warranty
At this moment of writing, The average price of this Samsung robot vacuum is $450. Also, Samsung offers one year warranty for the parts and labor.
PROS and CONS
PROS
Made by well-known Samsung
Lightweight elegant design
High suction power
Great for carpet floor cleaning
High efficient robot vacuum cleaner
Ability to clean hard to reach floor edges efficiently
Easy handling by smartphone or voice control smart devices
Automatic self-recharging
Work scheduling
Great vacuum cleaner for remove pet hair
CONS
Navigation system stuck sometimes
High price tag
My Final Thought
Overall, this is an awesome robot vacuum cleaner with high suction power. I am really impressed with its suction power. Especially, this is a great robot vacuum cleaner for pet hair. Also, its "edge clean master" feature is really good for cleaning floor edges. The working efficiency is overall good and uses less energy than other most of the robot vacuum cleaners.
I would like to recommend POWERbot R7065 as your next smart buying choice.