Are you looking for the best ultra-lightweight carpet cleaner? The lightweight carpet cleaners are great to use for the women and elder or senior persons.
The Hoover PowerDash Pet Carpet Cleaner, FH50700 is one of the best carpet cleaners 2020 in the market. It is a super lightweight and ideal for the above category of people. Also, it is very easy to use.

Introduction
The Hoover Powerdash FH50700 is a best selling carpet cleaner on Amazon. It is specially designed to remove the pet hair from carpets. It is compact, powerful, lightweight, and very effective. The Hoover Powerdash FH50700 is an upright carpet cleaner. So, it is easily maneuverable.
We highly recommended this upright carpet cleaner for the people who have home carpet floor and pets.
Now, we will quickly look the main features of this Hoover Powerdash carpet cleaner.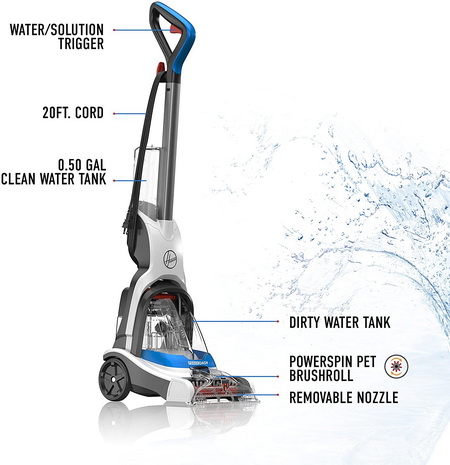 Main Features
2X More Cleaning Power: It delivers double cleaning power than the other leading lightweight carpet cleaners in the market. Its powerful cleaning can quickly pick up the stains and spills.
PowerSpin Pet Brush Roll: This is a very important part of this carpet cleaner. It delivers powerful cleaning with antimicrobial protection, perfect for pet messes.
Dual Tank System: This Hoover carpet cleaner includes a built-in two-tank system for store clean water and collects dirty water. This dual tank system is easy to fill, empty, and rinse. Also, a separate tank system does not allow to mix of clean water to dirty water. It helps to improve the quality and hygiene of the home floor.
Design: It has a user-friendly compact design. It helps to store it in limited space. The total height of this Hoover Powerdash carpet cleaner is 3.6 feet. So, users are allowed to doing carpet cleaning efficiently. Also, its low-profile foot design helps to clean both high traffic areas and hard to reach areas effectively.
HeatForce: This carpet cleaning machine can dry your carpet simultaneously while doing the cleaning process. It provides fast drying. This drying process is done by its advanced HeatForce technology.
Removable Nozzle: Removable Nozzle allows you to rinse and remove dirt grime
Power Code: Hoover PowerDash FH50700 comes with the 20 feet quick-release power code. It is long enough for doing your carpet cleaning work, without doing regularly unplugging and plugin until finish the job.
Assembly: It is needed some minor assemble. But, you don't require any tools for that.
Specification & Manual
Assembled Unit Depth: 15.25 In
Assembled Unit Height: 43.5 In
Assembled Unit Width: 10.125 In
Clean Water Capacity: 0.5 Gallons
Cleaning Path: 10 In
power Code: 20 ft.
Handle material: Plastic
Grip Type: D-Shaped Handle
Motor: 7 Amps, 120 Volts
Safety Rated UL
Motor Warranty: 1 Year(s)
Weight <13 Lbs
Product shipping weight 16.3
Pros
Lightweight compact design, so easy to carry
High efficient carpet cleaner
Powerful than other similar carpet cleaners
Easy to handle
Two separate tanks for store clean water and dirty water
Great for pet hair
Great for clean under the furniture
Low noise
Carpet drying option
Great value for money
Great quality
Affordable price
Cons
The water tank is small, so, need to refill a couple of times
Little difficult to clean the machine parts of it
Final Verdict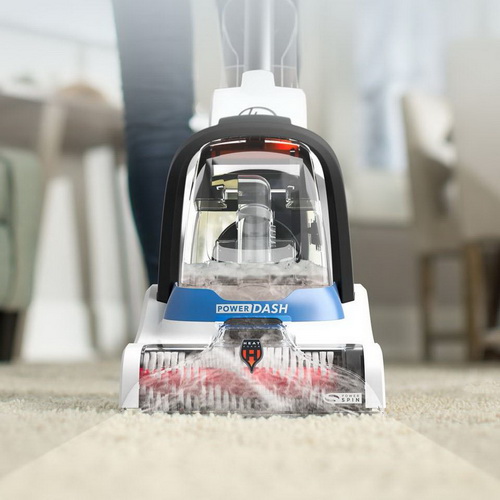 Overall, The Hoover PowerDash FH50700 is a great carpet cleaner. It is ideal for removing pet hair and other lightweight stains efficiently. Due to its lightweight design, it can be used for women and seniors without a problem. If you read this hoover carpet cleaner review, Try yourself this best carpet cleaner for pets and see the difference.
You May Love to Read
1: Bissell BigGreen BG10 Commercial Carpet Extractor Review
2: BISSELL CrossWave 1785 Review (Floor and Carpet Cleaner with Wet-Dry Vacuum)
The Best Hoover Carpet Cleaner Solution