Hey guys! Are you looking for the best commercial carpet cleaner for shampooing, carpet deep cleaning? Bissell BigGreen BG10 is a great commercial carpet extractor to do these all jobs in a single hand. This great commercial carpet cleaner suitable for cleaning any type of carpets in your home, office, or vehicle.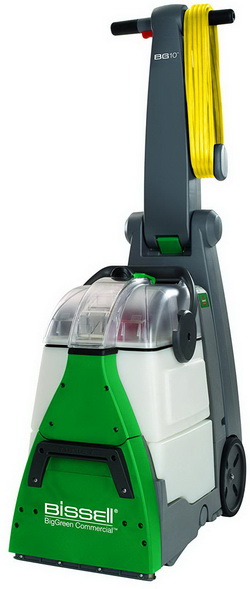 As the name of this Bissell commercial carpet cleaner, It is a big, sturdy, and high efficient commercial carpet extractor.
Bissell BigGreen BG10 is great for the deep carpet cleaning purpose. It can do your carpet cleaning job quickly and efficiently.
Recommended surface type: Carpet, upholstery, auto, stairs
What are the key design features?
It has really nice and solid design. An adjustable handle gives easy handling to users. All the machine parts made by high-quality materials. So, This deep carpet cleaner has high durability. The Bissell BigGreen BG10 includes two large separate water tanks for collecting dirty water and store clean water.
Also, The Bissell BigGreen BG10 includes two separate motors and backside large wheels that help easily move it forward and backward operation.
Bissell BigGreen BG10 provides a 10.5-inch cleaning path. This is perfect for most of the carpet cleaning applications both home & commercial.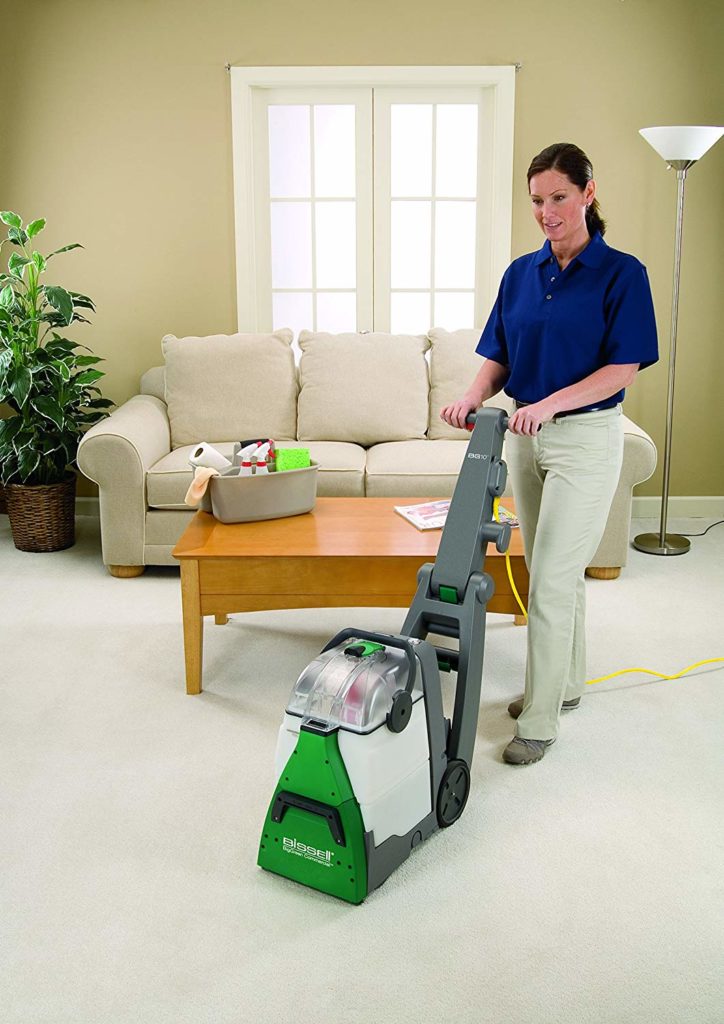 What is the rated voltage of Bissell BigGreen BG10?
Its rated voltage is 120V. So, Bissell BigGreen BG10 can be used in any household in the United States without a problem.
Why are we recommended BigGreen BG10?
The Bissell commercial carpet cleaner offers great advantages. Here are some key advantages of BigGreen BG10 extractor for your easiness.
Bissell commercial carpet cleaner is not like other deep carpet cleaners. It provides forward and backward deep cleaning functions. This way of cleaning can remove deeply grounded dirt very easily. So, your carpet cleaning job will be very easy.
Bissell BigGreen BG10 includes two separate water tanks to store clean water and collect dirt water during the job. The separate water tanks are very good for preventing the mixing of dirty water with clean water. Also, It helps to protect the freshness of the deep cleaning and increase home hygiene.
It has a commercial size water tank capacity of around 1.75 gal. This is large enough to clean your entire room without refilling water. Also, All the water tanks are easily removable. So, users can work with this Bissell commercial carpet cleaner without a headache.
The BigGreen BG10 is a powerful carpet cleaner. It has two motors and a dirt lifter power brush to clean more efficiently. Also, Its powerful edge-to-edge suction provides a great advantage for your cleaning job.
It is very easy to work with BG10. Its adjustable handle and backside wheels give more freedom to users to handle this powerful deep carpet cleaner very easily.
Some carpet cleaning machines need to assemble before use it. That is means; you need some technical knowledge to do it. But, BG10 doesn't require assembly. You can start work immediately after unpacking the machine. This is great for beginners or people who lack technical knowledge.
Another great point is its extension cord. BigGreen BG10 comes with 25 feet extension cord. So, you can cover a large area without changing the power adapter. So, it minimizes the risk of electrical hazards. As well as. The lengthy extension cord provides easy operation to users.
What are the negative points of this BG10 extractor?
Yep, any better machines have some negative points. It is the same for the Bissell BigGreen BG10 also. Now let's find out those.
BG10 extractor is a little bit heavy machine. Its weight around 42 pounds. So, some elder persons can be face difficulties when lifting the machine.
BigGreen BG10 is designed for carpet cleaning purposes. It is not recommended to clean hard floors like tile, wood..etc. So, It is not safe to use on hard floors.
The manufacturer is recommended using hot water for a better result. But, It has not include internal heaters to heat the water. So, we have to fill heated water separately to it. I think it is some negative point in this carpet cleaner.
This carpet cleaner does not come with any extra attachments. So, If you need to clean furniture like a sofa, or car carpet cleaner, you have to buy a hose with upholstery separately.
Specifications
Water Lift: 103"
Tank capacity: 1.75 gallon
Power rating: 12 amps
Power source: Corded 16 Gauge OSHA Pigtail Cord
Power cord length: 25 ft.
V rated flame retardant plastics: Yes
Brush: 2 Rows Rotating
Heater: No
Carry handle: Yes (Multiple)
Warranty: Limited 1 year commercial warranty
Conclusion
Bissell BigGreen Commercial BG10 is one of the top-rated carpet cleaners in the market. Absolutely, No doubt about the capabilities of the BG10. If you are looking to buy a perfect commercial carpet cleaning machine, this is one of the number one choices you have.