Do you know about the best floor buffer in the market right now at a reasonable price? Without a doubt it is Oreck commercial ORB550MC Orbiter floor buffer. Not only price but also its unique features are the main reason for its popularity.
The Oreck Commercial Orbiter is one of the best floor buffer for home use. It can be used to scrub, wax, strip, and polish your entire home floor easily. Especially, the Oreck Commercial floor buffer is the best hardwood floor cleaner machine. As well as, It can be used for deep cleaning institutional-grade carpets.
This floor cleaner machine comes as one assembled unit. So, you don't need to worry about assembling it before use. The only thing you have to do connecting the cleaning pad to the Oreck Commercial Orbiter and switch ON.


What are the popular usages of Oreck commercial orb550mc?
Carpet Dry cleaning and deep cleaning (High traffic institutional-grade carpets)
Buffing and polishing hardwood floors
Scrubbing and cleaning ceramic tile and grout
Scrubbing and cleaning concrete
Oil stains removing
Polishes, scrubs, and revitalizes vinyl
Scrubbing and cleaning brick, slate and stone floors
Why its design is unique?
Not like other floor buffers, Oreck commercial orb550mc orbiter floor machine has a very unique design. It is not used belt to rotate pad driver. Its brush head rotates in a random orbit for easy-to-use fingertip control. This allows the machine to easily glide over the floor and prevents brush marks, swirls, sanding marks, and gouges. It is easy maneuverable; you won't have any problem operating it.
Is it good for carpet cleaning?
Absolutely yes! , This is a great floor scrubber for carpet cleaning. The Oreck Orbiter can be used as a carpet cleaner. It will loose embedded soil in the carpet for vacuuming. After vacuuming the carpet, you can immediately walk on your dry-cleaned carpets immediately. They'll be clean, soft, fresh-smelling and beautiful.
Is it difficult to operate?
No, Oreck commercial orb550mc is very easy to operate. Its advanced working technology lets users control the machine easily. Also, this floor buffer is lightweight (24 lbs.). So, it can be used for any age of person without a problem.
Can it use in USA?
Yes, Its rated voltage is 120V. So, Oreck commercial orb550mc can be used in the USA surely. Also, It can use other countries which household voltage 120V.
What about price?
Price of this floor buffer is very reasonable compared with other competitor models. You can buy this floor buffer around $300.
What are the other models of Oreck multipurpose floor machine?
Oreck Orbiter Multi-Purpose Floor Machine, ORB600MW
Oreck Orbiter Ultra Multi-Purpose Floor Machine, ORB700MB
Specification
Weight: 24 pounds
Cleaning path: 13 inch
Cord Length: 50 foot
Pad driver size: 12 inch
Motor: ¾ Hp
Current: 5.4 Amp
Pad speed: 175 rpm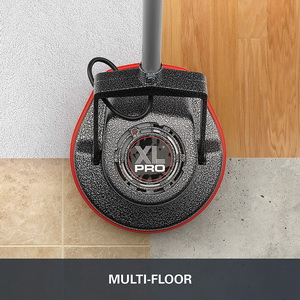 PROS and CONS
PROS
One of the best floor cleaning machines
Random Orbital Drive: no torque, gouging or swirling
Reasonable price
Easy handling
Lightweight design
No need to assemble/comes as assembled unit
Long power code helps to cover a large area
High durable floor buffer
Easy to clean
High customer positive feedback
CONS
Brush and polishing pad need to buy separately
No multispeed option
1-year warranty seems lesser than compare with another competitor offer
My final Thoughts
I am totally satisfied with the Oreck commercial orb550mc floor machine. It is one of the best floor cleaning machines in the market. I like to recommend this floor cleaning machine for others who are looking to buy the best floor buffer. Its price also very reasonable than other models.
This is a multipurpose floor machine. It is perfect for carpet floor, hardwood floor, tile floor, and vinyl floor to polish, scrub, buff, wax, and strip.