Koblenz B 1500 P is an excellent high speed floor burnisher for buffing your home floor. It is perfect floor burnishing machine for large range of floor buffing applications.
Koblenz is one of the top brand names in floor cleaning machines manufacturing industry. They have developed high quality floor care products over 40 years' time. Koblenz B 1500 P is one of the top products that they manufactured in recent time.
It has a great solid design and made by high quality and durable materials. So, this high speed floor burnisher has long life time than many other cheap floor burnishers.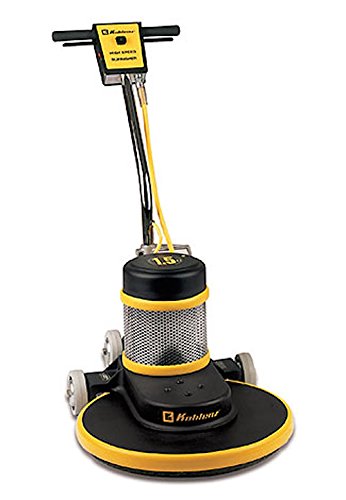 What are the purposes that can be use it?
High speed floor burnishers are perfect for cleaning large floor areas such as hospitals, schools, offices, indoor playground…etc. Koblenz B 1500 P ideal for buffing all types of hard floors (marble, tile, granite..,etc.)
Is Koblenz B 1500 P easy to operate and handle?
Yes absolutely, this floor burnisher is very easy to operate. It can be operated both left and right hand side. It is weight only 102 pounds. So, it can move one location to another very easily.
This high speed floor burnisher provides full pad contact and ultra-smooth and balanced operation.
There are four non-marking wheels that climb stairs easily. Also, its operation almost trouble free due to the dual permanently lubricated front bearings.
Koblenz B 1500 P comes with the 50 foot power code. So, you can cover large area once you plug the socket.
What are the other important features?
Koblenz B 1500 P has special fixed handle design for easy storage and operation. Also, it has better power saving ability because of its high efficient twin capacitor AC motor.
Koblenz B1500P High Speed Burnisher are made with durable all steel construction, dual insulated triggers with safety lock-out, circuit breaker protection and permanently lubricated dual front bearings for years of trouble free operation.
What are the specifications?
Size: 35 x 20 x 48 inches
Weight: 102 pounds
Motor: 1.5HP / 1500 RPM
13 inch chrome handle
Cleaning path: 20 inch
Rated power: 110V
PROS
Popular brand name
Great for buffing large areas
High speed (1500 rpm) and quick operation
All metal construction
Non marking wheels
Non marking bumper guard
High durable chrome handle
Safety switch with locking mechanism
CONS