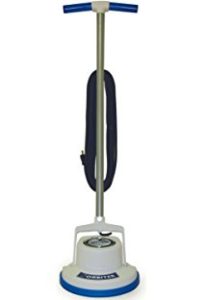 The Oreck Orbiter Multi-Purpose Floor Machine makes it simple to sand, refinish, strip, scrub, wax, and polish all floor surfaces, as well as deep clean your carpets. This is great marble polishing machine for home. The Oreck Orbiter works differently than conventional floor scrubbers; its brush head rotates in a random orbit for easy-to-use fingertip control. With 12 different cleaning pads available for purchase (along with superior cleaning supplies) it's versatile enough to tackle virtually any job on any floor surface, providing professional-looking results every time.
Pair the Oreck Orbiter with the Black Carpet Brush and Oreck Dry Carpet Cleaner to easily lift dirt from the carpet fiber and reduce allergens at the same time. It's a "dry" cleaning process which doesn't leave a soapy or sticky residue on carpets that can attract dirt and cause rapid re-soiling. It's also safe for use in homes with children and pets.
The unique design of the Orbiter's random orbital drive means no torque, gouging or swirling, making it remarkably easy to use. The brush head moves in a random orbit pattern, which allows the machine to easily glide over the floor and prevents brush marks, swirls, sanding marks, and gouges. Over time, all flooring shows the wear and tear of daily use. With the combination of a pad, brush, cleaning product and its wide 13" cleaning path, the Orbiter makes tough heavy-duty floor cleaning a breeze — and brings your floors back to life.
The Oreck Orbiter is assembled in America and is virtually maintenance-free. The precision-engineered induction motor is constructed of durable zinc and steel and there are no gears, belts, or motor brushes that can wear out. The Orbiter features a 5-year motor and 1-year overall limited warranty.
Here are the popular usage of Oreck Orbiter Multi Purpose Floor Machine: Remove grout stains on tile floors, Bring back the luster in hardwood floors, Deep clean carpets by removing dirt and stains, Remove oil and grease from concrete and asphalt, Restore and bring back the shine to marble floors.
Key Features:
Extracts stubborn stains and sticky residue
Refinishes tile, slate and stone
Sands, polishes and waxes wood floors
Dry cleans carpets

1/3 hp motor

13″ Cleaning Path with Random Orbital Drive
5-year Motor and 1-year Overall Limited Warranty