The Clarke CFP Pro 20HD is rugged, high performance and versatile floor polisher built for years of use in a wide range of applications. If you buy this floor polisher, it will not disappoint you, for the money that you paid.
Clarke CFP Pro 20HD floor polisher is a high range floor polisher that you can buy cheaply. This is fully worth compare with other higher price floor polishers. It comes with 20 inch pad driver and perfect floor machines for scrubbing, buffing, grinding, polishing, or bonnet cleaning a floor.
This floor polishing machine is made for the heavy duty use. So, you can use this floor polisher any place, any floor type, and any condition.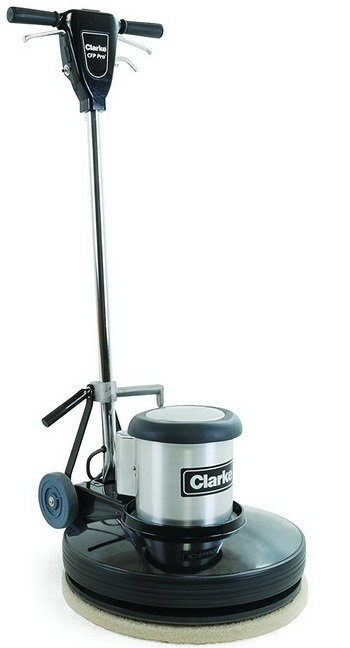 Powerful Floor Polisher
Clarke CFP Pro 20HD includes powerful 1.5hp, 175 rpm motor with all steel triple planetary gear box. So, it can deliver high performance floor polishing work for your home floor. Its rated voltage is 110V. So, this is suitable for countries like USA, Canada…etc. household voltage 110V.
Easy Safe Handling
This floor polisher is very easy to handle to even in little child (But, We will not recommend to use floor polishing machines to child). Its fingertips controls with soft handle grips provide users to great comfort and control.
Also, it comes with safety features like handle mounted safety switch, to avoid accidental hazards. The handle lock can be actuated by foot, and there is a convenient cord wrap for cord storage when not in use.
Floor and Wall Protection
Some floor polishing machines are damaging your floor and wall while operation. But, Clarke CFP Pro 20HD comes with special features like wrap-around non-marking bumper and non-marking transport wheels to protect your home floor, walls, furniture and fixtures while operating.
Specifications
| | |
| --- | --- |
| Pad Driver | 19 in |
| Deck Size | 20 in |
| Voltage | 110 V |
| Pad / Brush Speed | 175 rpm |
| Amp Draw | 13 amps |
| Gear Box | Triple planetary (All Steel) |
| Horsepower | 1.5 HP |
| Wheels | (2) 5 in – Non Marking |
| Power Cable | 50 ft – Safety Yellow |
| Sound Level | 63 dB A |
| Weight | 109 lbs |
| Dimensions (L x W x H) | 27 x 20 x 48 |
PROS and CONS
PROS
Powerful floor polishing machine
Efficient
Reasonable price
Fingertips control
Safety features
Simple setup
Great mobility
High durable floor polisher
Long power code
CONS
Our Thoughts
We are really impressed about Clarke CFP Pro 20HD. This is high efficient floor polisher for small to medium range of floor cleaning applications. Price is also very reasonable compare with other models in this range.
So, If you are looking to buy floor polisher/buffer for clean your home, we will recommend Clarke CFP Pro 20HD for you without a doubt.