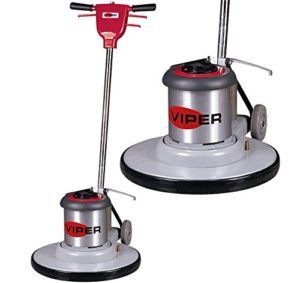 Viper venom floor machines keep great name in floor cleaning industry over the years. That is why people trust this robust floor buffer.
Introduction:
The Viper VN1715 Venom Series Low Speed Buffer is the one of the best floor buffers in the market. Viper venom vn1715 is most suitable for buffing your home floors. It is very easy to operate and control on any types of floors. Generally, This viper low speed floor machine is perfect for scrubbing and buffing all home and commercial floors, including VCT tile, carpet, ceramic, and terrazzo floors.


Technical Details:
It is CSA-approved and available in both 17 inch and 20 inch model. You do not need to buy pad driver separately because Venom vn1715 comes with pad driver. Venom low speed floor buffer comes with powerful 1.5hp motor and an all steel triple-planetary gear box. This floor machine supports 110V. Also, This VN1715 Venom Series Low Speed Buffer has high durability because its all the major parts built using metal.
Key Features:
Easy-to-use, fingertip controls
Motor-mounted pad driver storage
All-steel, triple planetary gear box
1.5 hp, 66-frame motor
Pad driver included
Combined with a 3-year parts warranty and a 2-year labor warranty
General Usages:
Bring back the luster in hardwood floors.
Remove oil and grease from concrete and asphalt.
Restore marble floors, bringing them back a shine.
Remove grout stains on tile floors.
Documentation:
User Manual – Viper-VN1715-VN2015-Manual
My Feelings:
Personally, I loved this viper 17 floor buffer because of it consume low power while operating. Also, It is powerful enough to re-fix any type of floor. Viper vn1715 is very easy to control and Its weight only 101 pounds. Height of this low speed floor buffer is only 48 inches. So, It is comfortable enough to work even short persons. Machine durability is not a problem with all metal robust construction.
Check More Details: