Powr-Flite C1600-3 is a very powerful floor polisher for all types of floor finishes. It can rotate 1600rpm speed and polish your home floor efficiently and quickly. Because of its high speed floor polishing ability, it can polish large floor areas very quickly. So, this is great product for people who looking to buy high speed floor burnisher/polisher. Specially, Powr-Flite C1600-3 is perfect floor polishing machine for the hospitals, indoor playgrounds, offices, schools and many other large floor area places.
Design and constructed material
When talking about the design of this high speed floor burnisher, It has very nice shape. Its weight only 101 lbs. So, It can be easily lifting from any obstacles. Also, It comes with full surround non-marking bumpers to prevent damage to walls and furniture.
Also, we were really impressed about its all chrome 1.5 inch tube handle and all metal housing. Handle is very solid and durable. So, It is very easy to operate. Also, all metal housing provides long lasting durability of the Powr-Flite C1600-3. This is very technologically advance floor polishing machine.
1600 rpm Speed motor
This floor burnisher includes very powerful 1.5 hp motor to rotate its polishing pad in lighting speed. So, users can drive this floor polishing machine smoothly and very quickly. Manufacture provides its cleaning productivity as 23,500 ft²/hr. Now you can get the proper idea about your home floor polishing time.
20 inch flexible pad driver
Every floor surfaces damage when it get old. So, old floor surfaces are not even most of the time. That is why we need best floor polishing machine. Some floor buffers are not supporting for uneven floors. But, not like other floor buffers, Powr-Flite C1600-3 provides full pad to floor contact polishing. So, it can deliver high quality floor care even in uneven floor surfaces. This is very promising feature that we expect from excellent floor polisher.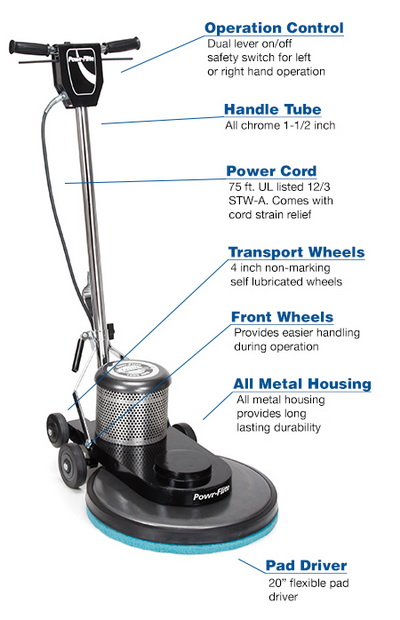 Safe and easy to operate
Powr-Flite C1600-3 is one of the easiest floor polishers to operate. It has special designed two front wheels for easy handling during operation. Also, It has dual lever ON/OFF safety switch for left or right hand operation. Furthermore, its thumb activated safety interlock switch prevents accidentals startups.
Power cord
Power code length is very important, when buying a floor buffer or burnisher. You must check the length of power code coming with it.
Because, If not, you have to buy separate power code for polishing large floor area. Powr-Flite C1600-3 comes with the 75 ft. power code. It is enough for most of the floor polishing activities in the home.
Power Supply
Powr-Flite C1600-3 is supported for 110V rated voltage. You can simply connect it to 15A socket and work.
Warranty
10 years for housing
2 years for motor
1 year for parts and workmanship
PROS
Perfect for all types of floor surfaces (Tile, marble, granite, wood …etc.)
Powerful floor polishing machine
High speed floor polisher (Quick time)
Advance safety features
Full pad to floor contact operation
Floor surfaces do not damage during operation
All chrome handle and all metal housing provide high durability
Comes with long power code
All the Powr-Flite C1600-3 tested and assembled by skilled American professionals
CONS
Support only 110V power supply
Heavy floor polisher for old age people
High price tag
Conclusion
In summary, the Powr-Flite C1600-3 can handle most of the tasks you throw at it, and is a highly rated and versatile floor burnisher. Well-made and easy to use, most real buyers of this product are extremely pleased with their purchase and would recommend this floor burnisher to others.