Hey guys! Are you looking for best wet and dry vacuum cleaner for home? Today, I am going to introduce best wet and dry vacuum cleaner for carpet floors and hard floors. It is called BISSELL CrossWave 1785A. So far this is one of the bestselling top rated wet and dry vacuum cleaners on the Amazon.
Now let's look at our BISSELL CrossWave 1785A review for more information.

BISSELL CrossWave 1785A is the amazing floor and carpet cleaner. It can easily remove any wet and dry dirt from your home floor. BISSELL CrossWave is perfect for cleaning sealed wood floors, tiles floors, carpet floors, rug floor areas, and laminated floors.
Its operation is very effective and quite. It can vacuum and wash the floor in same time. So, people can use it to remove any types of wet and dry dirt of the home floor.
Key features of the BISSELL CrossWave 1785A
Dual Action Brush Roll
It has a unique dual action brush roll to remove any wet and dry debris effectively. This dual action brush roll made from innovative microfibers and nylon and can rotate up to 3,500 rpm speed. So, it has great ability to mop and pick up the dry debris at the same time.
Smart Touch Controls
Not like other vacuum cleaners, BISSELL CrossWave 1785A has smart touch controls on the handle to easily switch between cleaning hard floors and area rugs.
Two-Tank Technology
There are two separate tanks included in this BISSELL vacuum cleaner to keep cleaning solution and dirty water separately. This way ensures always fresh cleaning of the floor every time.
Easy Handling
Swivel steering system gives easy maneuverability to this vacuum cleaner. So, BISSELL CrossWave multi-surface cleaning system is very easy to handle. Also, this is lightweight. So, it is very easy to carry any places in your home.
Easy Cleaning and Maintenance
Easy-Clean Storage Tray makes cleanup afterward simple and easy. And the Easy-Remove Brush Window and Removable Brush Roll make replacement simple.
PROS and CONS
PROS
One of the TOP BRAND names
Multi-surface cleaning system (Tile, Carpet, sealed wood, laminated)
Wet and dry vacuum cleaner
Ability to vacuum and wash same time
Lightweight and portable (11 lbs.)
Dirty water separation tank
Easy to control
Quick cleaning
CONS
Not suitable for deep clean of the carpets
Little pricy
My Final Thoughts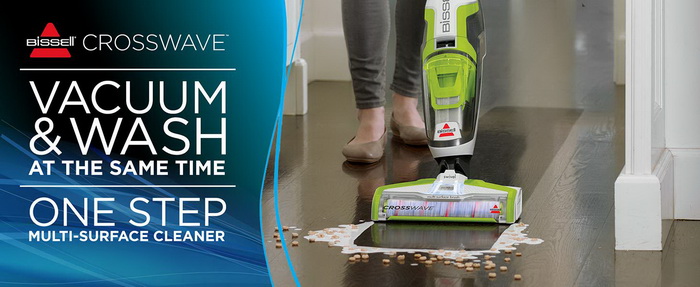 This is great wet and dry vacuum cleaner for home. It works better with hard floors like tile, laminated, and sealed wood floors. When considering carpet floor, it works well with carpet floors but it not suitable for carpet deep clean.
I am really like, its two tank system. Because, it keep dirty water separate and gives always fresh cleaning to the floor. Also, this way help to reduce the bad odor while cleaning.
This vacuum cleaner is very easy to handle due to its swivel steering and smart touch buttons on the handle.
Finally, I strongly recommended BISSELL CrossWave 1785A vacuum cleaner for the people who searching best wet and dry vacuum cleaner for their homes.